Breakfast Studios providing rehearsal studios, recording studios and PA Hire in London.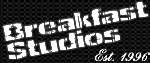 Breakfast Studios was established in Dec 1996, in Clapham, London with the idea of providing cost effective rehearsal facilities for aspiring bands within the London area. The original concept was to provide a friendly, flexible but professional approach to the provision of rehearsal services. This strategy is
still key to the approach of Breakfast Studios today, some seven years later.
As a result of demand, Breakfast Studios acquired a second 400sq. ft.
rehearsal room adjacent to the original. Later, with the success of the rehearsal studios, it became apparent that many of the bands and musicians using the rehearsal studios had a need for quality recording/mixing & mastering facilites. Over a period of 8 months a custom built recording studio was established nearby in Battersea to meet this need. Battenburg Studios – the recording arm of Breakfast Studios was born late in the year 2000.